miniDSP Flex Eight
miniDSP Flex Eight, 400MHz Sharc DSP audio processor, toolbox for subwoofer or multiway speaker tuning, Optional Stereo Dirac Live license for room correction, Bluetooth LDAC/APTX/AAC streaming. Array
ADD TO WISHLIST
Description
Specifications
Support
Application Notes
Reviews
---
The Flex Eight is the latest member of the miniDSP Flex family of advanced audio processors. We've taken advantage of our flexible hardware architecture to cram a full eight channels of DSP and a world-class analog output stage into the compact enclosure.
With multiple digital inputs and eight unbalanced analog output channels, the miniDSP Flex Eight can implement active speakers up to stereo four-way. Flexible 2x8 signal routing supports many other configurations such as two-way, three-way and multiple subwoofers. As always, a full suite of miniDSP's tried and proven audio processing functionality is included: parametric EQ, IIR & FIR filters, crossovers, advanced biquad programming and delay on each output channel.
The Flex Eight has USB audio, S/PDIF (RCA and optical) and Bluetooth (LDAC/aptX) stereo digital inputs. An OLED front panel display and volume control/encoder knob provides easy control. Last but not least, it is easily software-upgradable with Stereo Dirac Live® for full range correction (20~20kHz), the world's premiere room correction system.
The miniDSP Flex Eight is the perfect solution for a modern compact integrated active speaker/subwoofer system. You just need to let your creativity do the rest!
Hardware Features
Processor: 32-bit floating-point 400MHz Analog Devices SHARC DSP
Multi-Core USB Audio processor (XMOS)
Bluetooth streaming: LDAC™/aptX™ HD/aptX™/AAC/SBC
Optional upgrade to Dirac Live® 3.x Digital Room Correction, Stereo Full Range Room Correction (20~20kHz)
Audiophile performance with very low noise floor and distortion (SNR @128dB(A), THD+N @ -111dB (0.0003%)
Inputs: Stereo digital (USB Audio/SPDIF/Optical/Bluetooth)
Outputs: Unbalanced (RCA)
White/Black OLED front panel controller with IR control
Control and configuration by miniDSP Device Console (DC)
Product Downloads
What's in the box?
Digital Audio Processor - Flex Eight
12V univeral power supply (UK/EU/US/AU plugs)
USB cable
Optional Items
Dirac Live v3.x Upgrade for Stereo Full range correction (20~20kHz) / Must be selected in the shopping cart as an option.
Microphone tripod
NOTE: The UMIK-1/2 are measurement microphones approved by Dirac Research. Knowing the major effect a wrong calibration/measurement would have on the final results of Dirac Live tuning, we strongly recommend that you select a UMIK-1/2 microphone together with your platform for a plug&play experience leading to best results. Any issues related to 3rd party microphones such as ASIO/USB audio driver incompatibility/Latency problems or incorrect calibration process will not be under our support structure by our support team.
miniDSP Device Console (DC)

Flex Eight leverages miniDSP Device Console (DC), our newest real time control interface. Stay tuned to our product page and manual for more details!
Understanding LDAC™ Wireless audio
LDAC™ is Sony's High Quality wireless audio streaming and we at miniDSP thought it would be great to showcase its benefits. By nature, Bluetooth audio streaming is very convenient but it's not without its limitations and until recently has not been an audiophile experience. LDAC is a new CODEC enabling 3 x the data to improve your enjoyment. You can read more on the Sony LDAC™ page Sony LDAC™ page.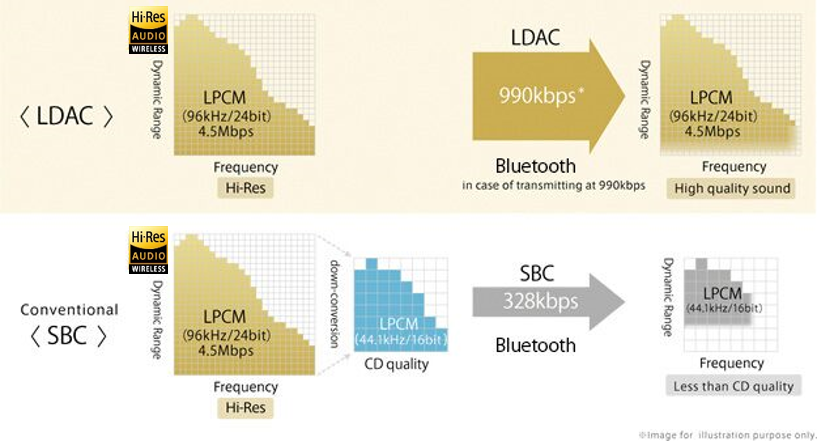 These pretty graphs are great but how about some measurements? We took some measurements with our Audio Precision APx555 to compare AAC Bluetooth with LDAC. Shown below are our measured results with a 24-bit 96 kHz source file with the following audio chain: LDAC/AAC in - > Flex - > Digital out to APX555. The lower distortion and noise of LDAC is clearly evident, with the SINAD metric being over 50 dB better! This translates in better audio performance for your wireless audio streaming. Not convinced by this graph? Have a listening trial and share with us your feedback!
Description

Digital Signal Processor Engine

Analog Devices Floating point DSP SHARC ADSP21489 @ 400MHZ

Processing resolution / Sample rate

32 bit/96 kHz (32bit/48 kHz with Dirac Live® license)

USB Audio support

UAC2 Low latency Audio - ASIO driver support (Windows) - Plug&Play (Mac/Linux)

Input/Output Configuration

2 channels in / 8 channels out

Digital Stereo Audio
Input Connectivity

1 x SPDIF on RCA connector
1 x OPTICAL on Toslink connector
1 x USB audio (stereo)
1 x Bluetooth with support for: LDAC™/aptX™ HD/aptX™/AAC/SBC
Supported Sample Rate: 20 ~ 216 kHz

Digital Audio Output Connectivity

Not Applicable

Analog Audio Output Connectivity

8 x Unbalanced RCA

Analog Audio Output Impedance

200 Ω

Analog Output Max Level

2 V RMS

Frequency Response

20 Hz – 20 kHz ± 0.05 dB

SNR (Digital to Analog)

125 dB(A) with DRE (Dynamic Range Enhancer)

THD+N (Digital to Analog)

-111 dB (0.0003 %) @1kHz

Crosstalk (Digital to Analog)

-120 dB

Filtering Technology

Flex Eight: IIR (10bands/outputs) + FIR (Stereo bank on input @ 2048taps for impulse response correction)
Flex Eight with Dirac Live®: Full Range correction (20~20kHz) + IIR (10bands/outputs)

Software control


Control and configuration by miniDSP Device Console (DC)

DSP Presets

Up to 4 presets

Dimensions

150x180x41 mm

Accessories

IR Remote

Power Supply

Included external switching PSU 12V/1.6A (US/UK/EU/AU plugs)

Power Consumption

4.0 W (idle)
2.5 W (standby)
Community Forum
FAQ's & Support portal
Application notes on the miniDSP Flex Eight platform
In this application, we go step by step on how to tune your multiway speaker. Make sure to check it out in details!
In this application note, we will show you how to design an active 2-way loudspeaker with the miniDSP 2x4 HD/Flex. Using the 2x4 HD/Flex, you can either create a conventional (Linkwitz-Riley or Butterworth) crossover, or a linear phase crossover.
In this application note, we will show you how to integrate a subwoofer with your existing loudspeakers by using a miniDSP 2x4 HD/Flex. You can use an existing preamp, or replace a preamp and a DAC with the miniDSP 2x4 HD/Flex. (In the latter case, you will need to program a remote control to adjust volume in the miniDSP 2x4 HD.)
In this app note, we will demonstrate subwoofer integration for miniDSP's stereo Dirac Live processors using only the Dirac Live app for measurement
In this application note, we show you how to use Room EQ Wizard (REW) and its integration with miniDSP to equalize your subwoofer.
There are yet no reviews for this product.