miniDSP Flex
miniDSP Flex, 400MHz Sharc DSP audio processor, toolbox for subwoofer or multiway speaker tuning, Optional Dirac Live license for room correction, Bluetooth LDAC/APTX/AAC streaming, Flexible I/O versions for unbalanced/balanced/digital connectivity Array
ADD TO WISHLIST
Description
Specifications
Support
Application Notes
Reviews
---
The miniDSP Flex is the 3rd generation of our popular line of compact 2-in, 4-out audio processors. It retains the powerful floating point processor but rethinks the I/O architecture so we can provide our customers with different input-output versions in this compact chassis. The initial versions are single-ended analog I/O (RCA), balanced analog I/O (TRS) and digital out with superb audiophile specification for your enjoyment.
All versions include a set of digital inputs: USB audio, S/PDIF (RCA/optical) and Bluetooth (LDAC/aptX). An OLED front panel display and volume control/encoder knob provides easy control. As always, the Flex series is jam-packed with miniDSP's tried and proven audio processing functionality: flexible parametric EQ, IIR & FIR filters, crossovers, advanced biquad programming and delay on each output channel. Last but not least, all platforms are easily software-upgradable with Dirac Live®, the world's premiere room correction system for full range (20~20kHz) tuning.
The miniDSP Flex will find a myriad uses in applications ranging from a compact digital stereo preamp through subwoofer integration and optimization to active speakers, home theater and recording studios. You just need to let your creativity do the rest!
Hardware Features
Processor: 32-bit floating-point 400MHz Analog Devices SHARC DSP
Multi-Core USB Audio processor (XMOS)
Bluetooth streaming: LDAC™/aptX™ HD/aptX™/AAC/SBC
Optional upgrade to Dirac Live® 3.x Digital Room Correction, Full Range Room Correction (20~20kHz)
Audiophile performance: SNR@120dB(A), THD+N @ -110dB (0.0003%)
Inputs: Stereo digital (USB Audio/SPDIF/Optical/Bluetooth), stereo analog (Unbalanced RCA)
Flexible Output versions: Unbalanced (RCA), Balanced (TRS), Digital (TOSLINK & SPDIF)
USB audio recording feature (4xCH processed output via USB audio to record inputs, e.g. Vinyl)
White/Black OLED front panel controller with IR control
Compatible with miniDSP's Device Console
Product Downloads for miniDSP Device Console
What's in the box?
Digital Audio Processor — Flex based on the I/O configuration selected. No Dirac Live license for default configuration
12V univeral power supply (UK/EU/US/AU plugs)
USB cable
Optional Items
Dirac Live v3.x Full range license (20~20kHz) / Must be selected in the shopping cart as an option.
Microphone tripod
TRS to XLR cables (Inputs, Outputs)
NOTE: The UMIK-1/2 are measurement microphones approved by Dirac Research. Knowing the major effect a wrong calibration/measurement would have on the final results of Dirac Live tuning, we strongly recommend that you select a UMIK-1/2 microphone together with your platform for a plug&play experience leading to best results. Any issues related to 3rd party microphones such as ASIO/USB audio driver incompatibility/Latency problems or incorrect calibration process will not be under our support structure by our support team.
Understanding LDAC™ Wireless audio
LDAC™ is Sony's High Quality wireless audio streaming and we at miniDSP thought it would be great to showcase its benefits. By nature, Bluetooth audio streaming is very convenient but it's not without its limitations and until recently has not been an audiophile experience. LDAC is a new CODEC enabling 3 x the data to improve your enjoyment. You can read more on the Sony LDAC™ page Sony LDAC™ page.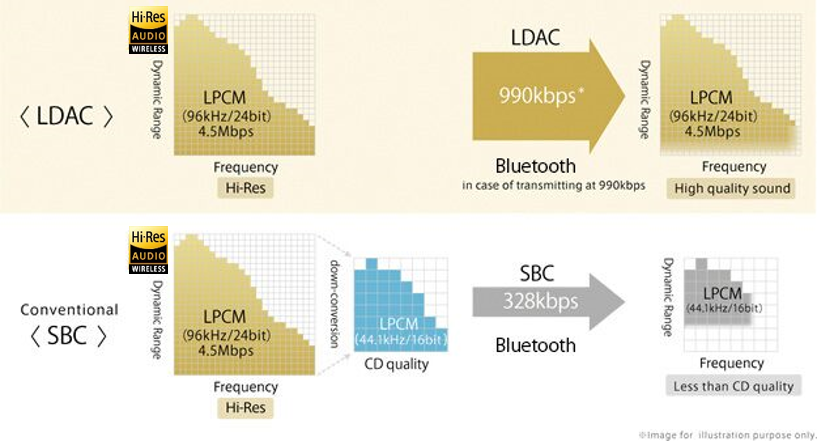 These pretty graphs are great but how about some measurements? We took some measurements with our Audio Precision APx555 to compare AAC Bluetooth with LDAC. Shown below are our measured results with a 24-bit 96 kHz source file. The lower distortion and noise of LDAC is clearly evident, with the SINAD metric being over 50 dB better! This translates in better audio performance for your wireless audio streaming. Not convinced by this graph? Have a listening trial and share with us your feedback!
Unbalanced RCA version

Balanced 6.35 mm
TRS jack version

Digital version


Digital Signal Processor Engine

Analog Devices Floating point DSP SHARC ADSP21489 @ 400MHZ

Processing resolution / Sample rate

32 bit/96 kHz (32bit/48 kHz with Dirac Live® license)

USB Audio support

UAC2 Bidirectional Audio - ASIO driver support (Windows) - Plug&Play (Mac/Linux)

Input/Output Configuration

2 channels in / 4 channels out

Digital Stereo Audio
Input Connectivity

1 x SPDIF on RCA connector
1 x OPTICAL on Toslink connector
1 x USB audio (stereo)
1 x Bluetooth with support for: LDAC™/aptX™ HD/aptX™/AAC/SBC
Supported Sample Rate: 20 ~ 216 kHz

Digital Audio Output Connectivity

4 x Output channels
(Post DSP)on USB Audio

4 x Output channels
(Post DSP)on USB Audio

4 x Output channels
(Post DSP)on USB Audio and
SPDIF& TOSLINK (duplicated)

Analog Audio Input Connectivity

2 x Unbalanced RCA

2 x balanced 6.35 mm
TRS jack (as XLR)

2 x Unbalanced RCA

Analog Audio Output Connectivity

4 x Unbalanced RCA

4 x balanced 6.35 mm
TRS jack (as XLR)

N/A

Analog Audio Input Impedance

100 kΩ

200 kΩ

100 kΩ

Analog Audio Output Impedance

200 Ω

200 Ω

N/A

Analog Audio Input / Output Max Levels

2 V RMS / 2 V RMS

4 V RMS / 4 V RMS

2 V RMS / NA

Frequency Response

20 Hz – 20 kHz ± 0.1 dB

20 Hz – 20 kHz ± 0.1 dB

20 Hz – 20 kHz ± 0.01 dB

SNR (Digital to Analog)

120 dB(A)

121 dB(A)

D>D: 137 dB(A)

THD+N (Digital to Analog)

-110 dB (0.0003 %) ± 3 dB

-112 dB (0.00025 %) ± 3 dB

D>D: -130 dB (0.00003 %)

Crosstalk (Digital to Analog)

-120 dB

-128 dB

D>D: -165 dB

SNR (Analog to Analog)

115 dB(A)

116 dB(A)

A>D: 115 dB(A)

THD+N (Analog to Analog)

-106 dB (0.0005 %) ± 3 dB

-108 dB (0.0004 %) ± 3 dB

A>D: -108 dB (0.0004 %)

Crosstalk (Analog to Analog)

-115 dB

-123 dB

A>D: -115 dB

Filtering Technology

FIR + IIR /
Optional Dirac Live® 3.x Full Range correction (20~20kHz)

DSP Presets

Up to 4 presets

Dimensions

150x180x41 mm

Accessories

IR Remote

Power Supply

Included external switching PSU 12V/1.6A (US/UK/EU/AU plugs)

Power Consumption

9.0 W (idle)
2.5 W (standby)

10.3 W (idle)
3.1 W (standby)

7.5 W (idle)
2.5 W (standby)
Application notes on miniDSP 2x4 HD/Flex platform
In this application note, we will show you how to design an active 2-way loudspeaker with the miniDSP 2x4 HD/Flex. Using the 2x4 HD/Flex, you can either create a conventional (Linkwitz-Riley or Butterworth) crossover, or a linear phase crossover.
In this application note, we will show you how to integrate a subwoofer with your existing loudspeakers by using a miniDSP 2x4 HD/Flex. You can use an existing preamp, or replace a preamp and a DAC with the miniDSP 2x4 HD/Flex. (In the latter case, you will need to program a remote control to adjust volume in the miniDSP 2x4 HD.)
In this app note, we will demonstrate subwoofer integration for miniDSP's stereo Dirac Live processors using only the Dirac Live app for measurement
In this application note, we show you how to use Room EQ Wizard (REW) and its integration with miniDSP to equalize your subwoofer.
Wednesday, 25 January 2023
I have been using the Flex unbalanced in a simple 2.1 bookshelf/powered sub system. The small form factor and full DSP is perfect for my application. After a couple hours with REW, a UMIK-1 and your intuitive 2X4HD plugin my room has never sounded so good. Impeccable test results finalized my purchase but small things like the strong IR remote and front panel auto dimming make me appreciate the Flex every time I use it. Thanks for engineering a powerful, high performance product at reasonable cost.
DavidK442
Wednesday, 22 June 2022
Been using a DDRC-24 for a long time in a 2.2 configuration with a separate DAC. Moved to the Flex with DIRAC recently and it is such a great unit for digital units, BT connection, and then as a DSP processor + DAC + pre-amp. The Flex has simplified my stack, improved sound quality, and is easy to use. Love it!
Maginness
Monday, 24 January 2022
First General impressions are very good. The rotary encoder is just a delight, you can change volume, preset, and input very easily using the knob. It's so good that it makes the remote redundant (i didn't really open it and not planing to). Noise is just not a thing anymore. My brain tells me it is differently better than the 2x4HD but i learned well not to trust it. All-in-all a much needed upgrade from the 2x4HD, I'm very satisfied. I emailed the support team about some features that were lacking at launch but i'm sure they will be ironed out eventually.
Jeroen CRAB
More reviews