There are a number of well-regarded music players that can stream audio to the miniDSP SHD Series over your local area network (LAN). In this app note, we will show you how to use JRiver Media Center (JRMC). JRiver Media Center is available for Mac, Windows and Linux. It is a commercial program with a 30-day free trial.
We'll assume that you've already downloaded JRiver Media Center, installed it, and set it up with a library of music files on your hard drive. And, of course, that your SHD is connected to your network via its Ethernet port. Before proceeding, set the SHD to LAN input:
In order to stream audio to the miniDSP SHD, you will need to enable JRMC's Media Network functionality. In the sidebar on the left, click on Services & Plug-ins and then on Media Network. On the right, click on Options.
In the next dialog, check "Use Media Network to share this library and enable DLNA."
A new dialog box will open. Click Next twice and then OK. Choose "Audiophile 24-bit DAC (PS Audio etc.)" and then click Finish.
Now quit Media Center and start it again. The miniDSP SHD will appear in the left menu:
Click on the miniDSP SHD to select it:
Then click on Audio, select an album, and play it. You should hear audio from the SHD! For extra bonus points, download JRemote onto your iOS or Android phone or tablet and set it up to remotely control audio playback from your computer: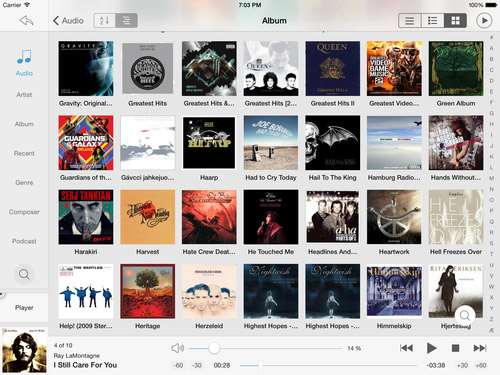 (Image from jremote.jriver.com)
---
Related products - SHD series