You have an OpenDRC or miniSHARC kit and now wondering how to build your own FIR filters. Over the years that we've been looking into FIR, there are few tools we've found that are worth sharing with you. Here is a non exaustive list. Please feel free to email us to share more info!
rePhase (Freeware)
Designed by Thomas (Pos), rePhase is a neat little freeware tool for building your FIR filters. Please make sure to take the time to support this great application.
A complete step by step guide is available on miniDSP website at the following link.
Filter Hose (Commercial)
Check out the software by HXAudioLab. A well known platform for all FIR audiophiles. Make sure to check out the application note on this website.
FIR Designer & Creator
Eclipse Audio provides a suite of software tools for creating FIR filters & mixed IIR/FIR filter presets for loudspeakers, including FIR Designer M, FIR Designer, FIR Creator EX & FIR Creator. FIR Designer M is the most comprehensive, providing integrated design for up to 6-way loudspeakers. Both FIR Designer products have unlimited IIR filters, filter prototypes, automatic correction frequency bands and project Windows, as well as built-in measurement Averaging, Continuous Wavelet Display & Coherence functionality. Multiple sample rate options & user-defined target responses are also included. All tools run on both macOS & Windows and can export filters suitable for many processors including miniDSP. Download free demo versions here.

Ultimate EQ (commercial)
Ultimate EQ
is the work of art from Bohdan Raczynski. This very powerful software now has support for generating coefficients for the OpenDRC and miniSHARC series. Make sure to check out our application notes.
FIR Filter Designer (Free online tool)
A great free online FIR filter designer tool with lots of features. Check it out here and see the tutorial here.
Align2 (Freeware)
Align2
is a free audio softwre designed by JL Ohl to calculate loudspeaker correction for OpenDRC hardware or for convolution softwares. It was first designed as a GUI for DRC (D. Sbragion) or PORC (M. Green) but evolved with many added functions.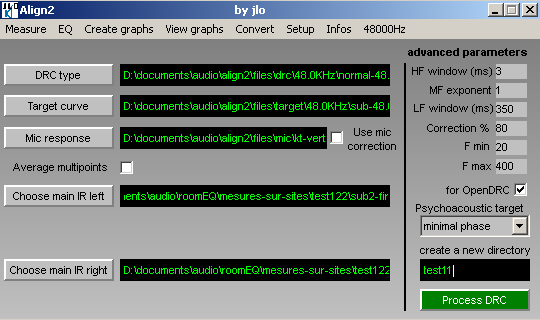 Iowa Hills Filter design tools (Freeware)
This free FIR filter design program uses the Parks McClellan algorithm and Fourier Transform (windows) method to synthesize filters. It is capable of synthesizing a wide variety of filter types in the form of linear phase, minimum phase, or an IIR type phase response. Possible filter types include the Raised Cosine, Bessel, Inverse Chebyshev, and others. Hilbert filters, Differentiators, and other specialized band pass filters are available from our Hilbert Filters program. Make sure to check out the wealth of information on the website of Iowa Hills!
ScopeFIR (Commercial)
ScopeFIR is an advance tool for building all your FIR filters. A well known software recommended for any hardcore designer. Note that this software requires a license.
Octave (Open Source)
Here is an open source solution using a Math package. Octave is a well known GNU (open source) package widely used as an alternative to Matlab. Here is a simple step by step for building a FIR filter under Octave.
T-Filter (Free online tool)
An online FIR filter designer tool. A very basic GUI for a quick to use application. Check it out here.
MatLab (Commercial package)
Last but not least, Matlab and its processing toolbox is certainly very effective at building FIR filters and simulate their response. Here is a summary from the help file.
Got a software that you could recommend? Please get in touch with us so we can advertise it in this section.
---
Related Products - OpenDRC series