Dirac Live is an optional upgrade to the miniDSP Flex. You can purchase a Dirac Live license for 199USD and activate the upgrade directly from within the miniDSP Device Console starting from version v1.1.3!
To purchase the Dirac Live upgrade, click on Convert to Flex (DL) in the Device Console sidebar:
Read the information and warning notices and click through if you wish to proceed.
The upgrade is a two-step process: 1. purchase; 2. activate.
1. Purchase the Dirac Live upgrade
Click on BUY UPGRADE. A browser window will open on stripe.com. Enter your payment details and click Pay.
The Stripe payment page redirects to an acknowledgement screen:
You will also receive an email receipt to the email address entered during the process.
After you press the Buy Upgrade button, miniDSP Device Console will wait for an acknowledgement from the payment system. If you decide not to proceed with the upgrade, click the back-arrow button near the top left of the purchase screen and the Device Console will return to normal operation.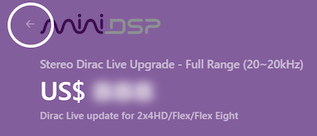 If you just close the payment window, Device Console will wait 30 minutes for the acknowledgement; in that case, quit and restart the Device Console application.
2. Activate the Dirac Live upgrade
After payment completes, return to the miniDSP Device Console window. You will see acknowledgement of successful payment:
Click OK to return to the upgrade screen.
Click on RETRIEVE KEY ONLINE to retrieve the activation key. Then click ACTIVATE to activate the upgrade on your Flex.
NOTE: Retrieving the activation key online requires an active Internet connection. If you have a device that needs to be activated while offline, save the activation key file that was attached to the purchase acknowledgement email onto a USB stick. On the device to be activated, click LOAD FROM FILE and select the file from the USB stick.
After activating, the Flex will restart. When it comes back online, it will appear in the Device Console list of devices as a Flex (DL).
The miniDSP Flex presets will not be converted to the Flex (DL). When reconnecting, you can choose to either restore all presets to their default values or to use existing Flex (DL) presets.
If you have any issues/questions, please feel free to contact us directly. Our team will be happy to help.