THIS PRODUCT PAGE IS NOW A PLACEHOLDER. Upgrade is now purchased and activated directly from the newest Device Console software. Please read from below on how to upgrade your platform.


The miniDSP 2x4 HD can be upgraded to run stereo (two-channel) Dirac Live® room correction for full range correction (20~20kHz) for 199USD. This requires an additional purchase for the Dirac Live license. You can either purchase the miniDSP 2x4 HD with Dirac Live already activated, or purchase the Dirac Live upgrade at a later time from within the Device Console. Refer to the instructions here to upgrade your unit to a DDRC-24 from the Device Console.
To purchase the Dirac Live upgrade, click on Convert to DDRC-24 in the Device Console sidebar:
Read the information and warning notices and click through if you wish to proceed.
The upgrade is a two-step process: 1. purchase; 2. activate.
1. Purchase the Dirac Live upgrade
Click on BUY UPGRADE. A browser window will open on stripe.com. Enter your payment details and click Pay.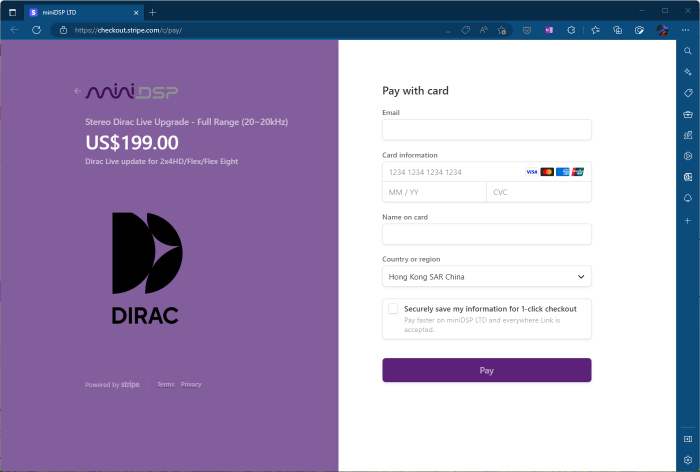 The Stripe payment page redirects to an acknowledgement screen: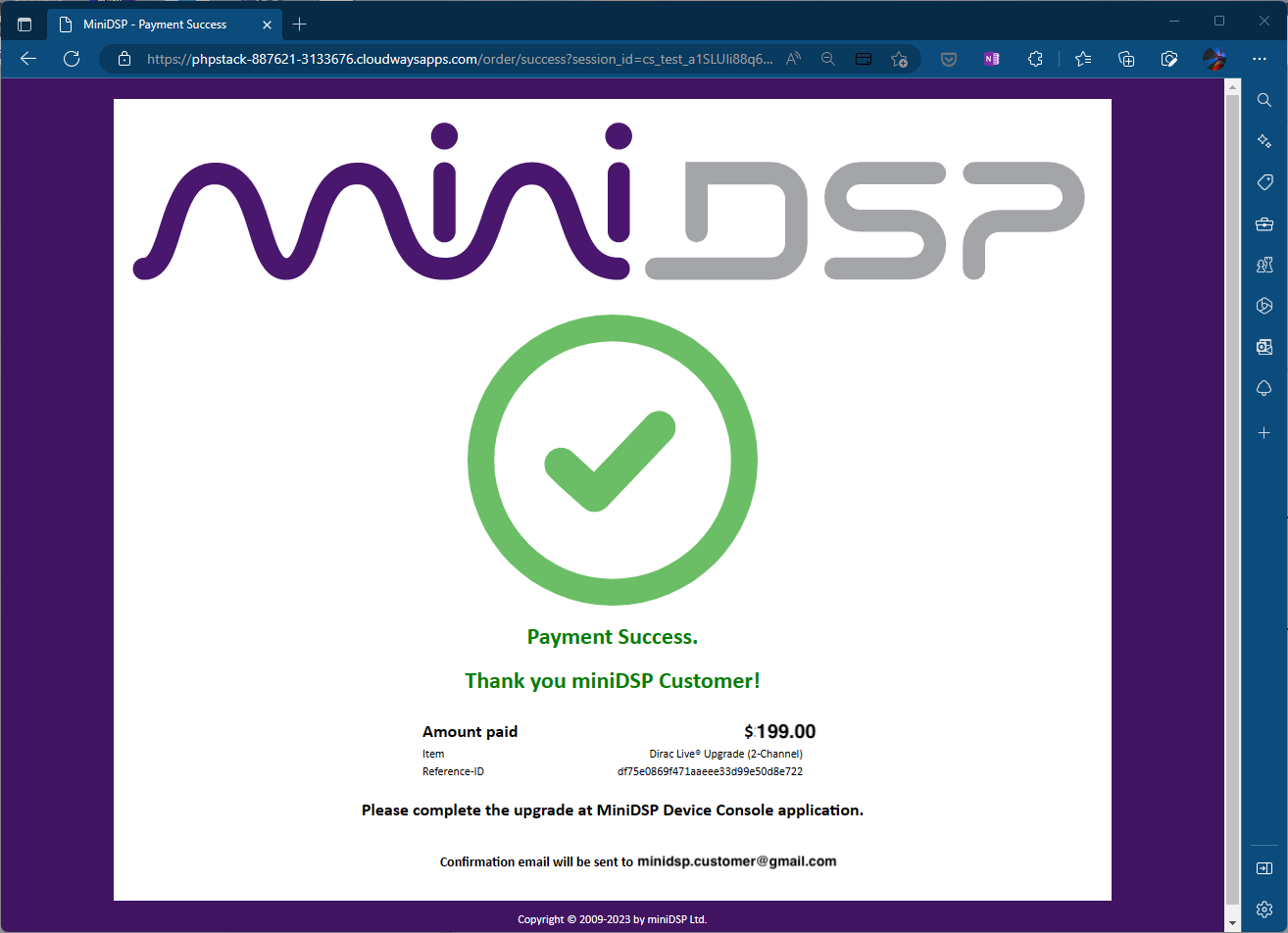 You will also receive an email receipt.
Info
After you press the Buy Upgrade button, miniDSP Device Console will wait for an acknowledgement from the payment system. If you decide not to proceed with the upgrade, click the back-arrow button near the top left of the purchase screen and the Device Console will return to normal operation.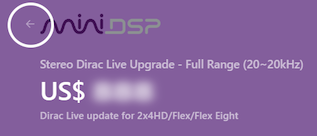 If you just close the payment window, Device Console will wait 30 minutes for the acknowledgement; in that case, quit and restart the Device Console application.
2. Activate the Dirac Live upgrade
After payment completes, return to the miniDSP Device Console window. You will see acknowledgement of successful payment:
Click OK to return to the upgrade screen.
Click on RETRIEVE KEY ONLINE to retrieve the activation key. Then click ACTIVATE to activate the upgrade on your 2x4 HD.
Tip
Retrieving the activation key online requires an active Internet connection. If you have a device that needs to be activated while offline, save the activation key file that was attached to the purchase acknowledgement email onto a USB stick. On the device to be activated, click LOAD FROM FILE and select the file from the USB stick.
IMPORTANT NOTE: The UMIK-1/2 are measurement microphones approved by Dirac Research and not included in the price of this upgrade. Knowing the major effect a wrong calibration/measurement would have on the final results of Dirac Live tuning, we strongly recommend that you select a UMIK-1/2 microphone together with your platform for a plug&play experience leading to best results. Any issues related to 3rd party microphones such as ASIO/USB audio driver incompatibility/Latency problems or incorrect calibration process will not be under our support structure by our support team.
Product downloads
Techdata and app notes
What's included?
Access to our upgrade software tools to upgrade your unit
1 x Dirac Live 3.0 License for miniDSP devices - Full Range correction